MENÚ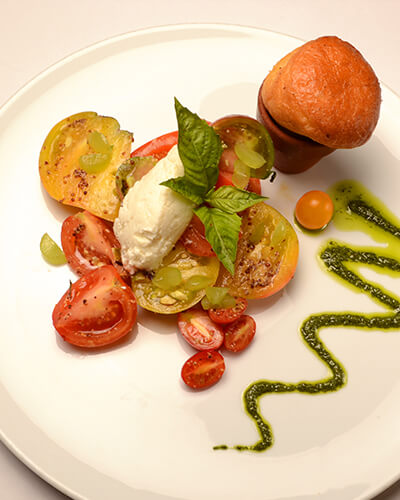 AMUSE
Sea and citrus flavors.
---
FRIED SOFT CRAB
Watercress salad, orange, walnut, almond, apple; honey vinaigrette and balsamic vinegar.
---
CONFIT TOMATOES RISOTTO
Confit tomato, fresh and dehydrated tomatoes corn foam.
---
SHRIMP WITH PLUM AND "HABANERO" MOLE
Butter "tamal", filled mussel and pickled vegetables.
OR
ROASTED TOTOABA WITH GINGER AND CAPERS MEUNIÈRE
Chiribiya and truffle Mousseline, fennel, confit potato.
---
SUCKLING LAMB
Crunchy shoulder, chop crusted with pistachio, green peas and "chile toreado" siphon, haricot bean vinaigrette, baby onions, mint broad beans.
OR
SHORT RIB AND GRILLED BEEF FILLET
Short rib slow cooked for 8 hours, grilled fillet, beef jerky, creamy chipotle chili sauce, shallot confit, potato terrine.
---
SEARED FOIE GRAS ROUGIÉ AU TAMARIND
Light potato purée, spices bread, tropical salpicon.
OR
CHEESE TASTING
---
BLUE CHEESE SOUFFLÉ
Port warm sauce, cassis sorbet.
---
MACARONS