MENÚ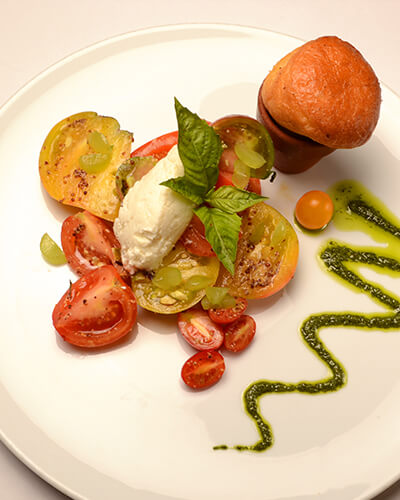 AMUSE
Sea and citrus flavors.
---
TUNA TARTAR
Celery salad, bread chips, habanero mayonnaise, seaweed, salmon roe and lemon vinaigrette.
OR
ORGANIC TOMATOES AND BURRATA CHEESE
Fresh, marinated and dehydrated tomatoes, wild sorrel, truffle & huitlacoche, brioche, apple and basil jelly.
---
PAN SEARED BAJA SCALLOPS OVER WHITE PIPIÁN WITH GREEN OLIVES AND CAPERS
Frida Kahlo's white pipián.
OR
CHEF THIERRY'S CREAM OF PRAWN AND PUMPKIN SOUP
A 28-year tradition.
---
FRESH TUNA CRUSTED WITH PEANUTS
Organic vegetables, avocado cream, fennel-jalapeño siphon, lemon confit.
OR
MARINATED BROILED OCTOPUS
Grilled polenta and smoked organic beets, pea mousseline, crunchy garlic, beet vinaigrette, red wine sauce.
---
SUCKLING LAMB
Crunchy ossobuco, chop crusted with pistachios, eggplant cloud, braised carrot, crunchy garlic.
OR
SHORT RIB AND GRILLED BEEF FILLET
Short rib slow cooked for 8 hours, grilled fillet, beef jerky, creamy chipotle chili sauce, shallot confit, potato terrine
---
SEARED FOIE GRAS ROUGIÉ AU TAMARIND
Light potato purée, spiced bread, tropical salpicon.
OR
CHEESE TASTING
---
FRAISIER
Small strawberry cake, white chocolate, strawberry sorbet.
OR
HABANERO CHILI WITH PASSION FRUIT MOUSE
Almond crumble, vanilla ice cream
---
MACARONS