MENU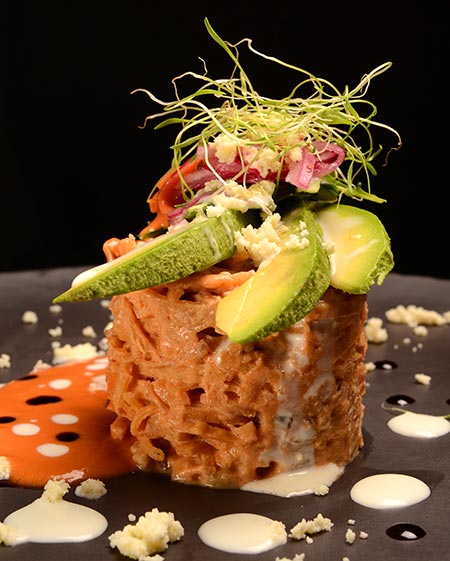 TUNA TARTAR (3.17oz).
Celeric salad, bread chips, habanero mayonnaise, seaweed, salmon roe and lemon vinaigrette.
FRIED SOFT CRAB (3.17oz).
Watercress salad, orange, walnut, almond, apple; honey vinaigrette and balsamic vinegar.
GREEN SALAD, PEAR, HUMUS AND GORGONZOLA CHEESE (3.17oz).
Brussels sprouts, smoked almonds and crunchy chia.
ORGANIC TOMATOES AND BURRATA CHEESE (2.82oz)
Fresh, marinated and dehydrated tomatoes, wild sorrel, truffle & huitlacoche, brioche, apple and basil jelly. apple and basil jelly.
SEARED FOIE GRAS ROUGIÉ AU TAMARIND (2.82oz).
Light potato purée, spices bread, tropical salpicon.
PAN SEARED BAJA SCALLOPS OVER WHITE PIPIÁN WITH GREEN OLIVES AND CAPERS.
Frida Kahlo's white pipián (2.82oz).
SUCKLING PIG CONFIT TACO (2.82oz)
Beans, avocado cream, sauce, pork rind, fried parsley, jocoque, ranch cheese.
CHEF THIERRY'S CREAM OF PRAWN AND PUMPKIN SOUP.
A 28-years tradition.
CONFIT TOMATOES RISOTTO (3.17oz)
Confit tomato, fresh and dehydrated tomatoes corn foam.
FOR SHARE
TUNA AND AVOCADO TARTAR OVER SALT BLOCK (5.64oz)
Bread chips, habanero mayonnaise, seaweed, radish and salmon roe, Itsmeñas chips
IBERIAN ACORN JABUGO "PATA NEGRA" (2.16oz)
Toasted pecan bread.
ARTISAN CHEESE TASTING (6.34oz)
Fresh goat cheese from Atotonilco with truffle honey, Cotija cheese (D.O. Sierra de Jalmich, Mexico), with green tomato compote, Ramonetti cheese (D.O., Baja California, Mexico) with mango chutney, Grana Padano cheese (D.O., Emilia-Romagna, Italy) with white raisin pudding, Blue Gorgonzola cheese (D.O., various, Italy) with Port wine jelly, Bread variety for each cheese.
BAJA CALIFORNIA OYSTERS (DOZEN)
Shallot vineger.