MENU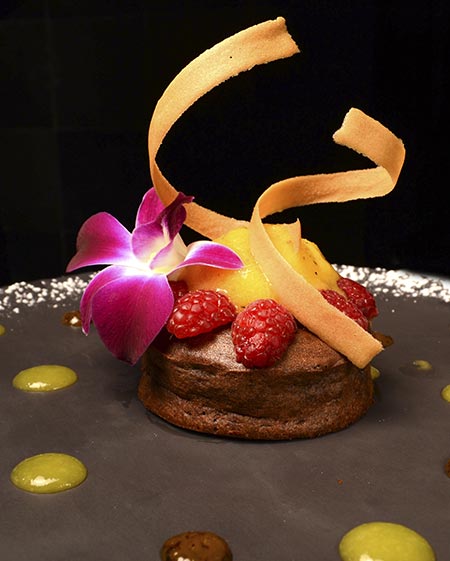 DESSERTS
CHOCOLATE LOVERS
CHOCOLATE AND RASPBERRY PROFITEROLE (3.17 oz)
Intense chocolate mousse, raspberry, chocolate whipped cream.
TOUT CHOCOLAT (3.17 oz)
Chocolate finger, sacher, praline, cacao mousse.
GIANDUJA CHOCOLATE TARTE, ORANGE AND SPICES (3.17 oz)
Sacher, milk chocolate, orange essence.
THE FLOWERPOT (4.93 oz)
Three chocolate mousse with chocolate powder (to share).
OTHERS FLAVORS
FANTASTIC STRAWBERRIES (3.17 oz)
Organic strawberries from Los Cabos desert, champagne sabayon, pistachio ice cream, strawberry broth.
FRAISIER (2.82 oz)
Small strawberry cake, white chocolate, strawberry sorbet.
BLUE CHEESE SOUFFLÉ (2.82 oz)
Port warm sauce, cassis sorbet.
SOURSOP SORBET (2.82 oz)
Black zapote and orange sauce, almond merengue, crumble, coral citric.
TROPICAL CHEESECAKE (3.17 oz)
Caramelized Dominic banana, passion fruit siphon, guava textures, meringues.
MILK CARAMEL CRÈME BRÛLÉE (3.17 oz)
Soursop sorbet, salty caramel sauce, crunchy tuiles.