MENU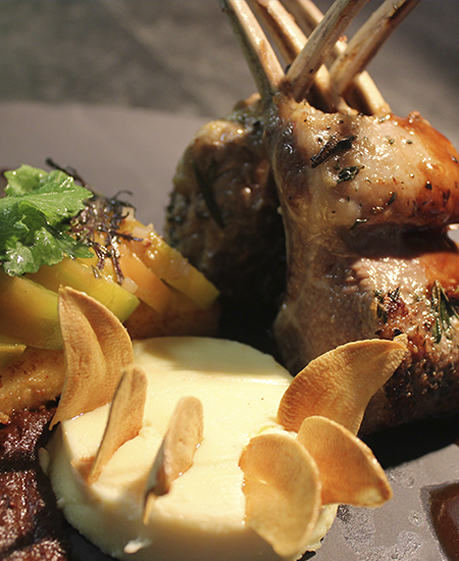 SECRET INGREDIENT OF THE DAY (6.3oz)
Ask your waiter for the arrivals of the day.
ROASTED TOTOABA WITH GINGER AND CAPERS MEUNIÈRE (6.3oz)
Chiribiya and truffle Mousseline, fennel, confit potato.
GROUPER WITH BEURRE BLANC WITH CHIPOTLE (6.3oz)
Potato scales, sautéed lentils and quelites, fennel confit.
CHAR-BROILED SEARED MARINATED FRESH TUNA (6.3oz)
Green pipian with seaweed, vegetable chop suey, grilled corn, sprouts salad, xnipec.
MARINATED BROILED OCTOPUS WITH "CHICATANAS" (6.3oz)
Smoked organic beets, green peas mousseline, beef and scallop tartare, bone marrow, red wine sauce.
SHORT RIB AND CHARCOAL BEEF FILET (6oz)
Camembert cheese and chipotle sauce, paper potato, confit shallot, potato and bacon terrine.
ROSSINI BEEF FILLET (7oz)
Foie gras, fresh truffle and Port Wine sauce.
SUCKLING LAMB (6.3oz)
Lamb chop crusted with pistachios, crunchy ossobuco, eggplant cloud, braised carrot, crunchy garlic.
PORK BELLY AU COCONUT IN PULQUE SALSA (5oz)
Chilhuacle pepper, roasted Brussel sprouts, chargrilled carrot with truffle mousseline.