MENU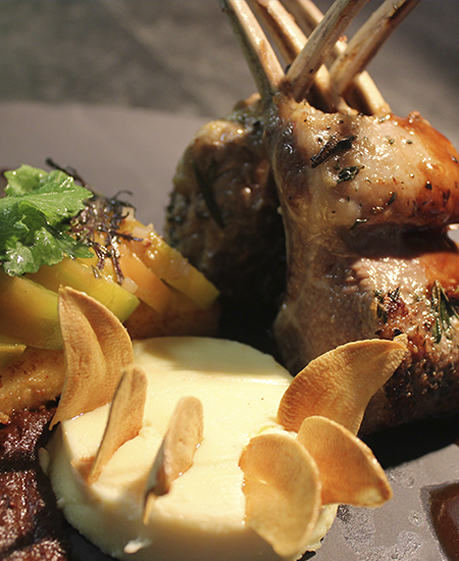 SECRET INGREDIENT OF THE DAY (6.34oz)
*Ask your waiter for the arrivals of the day
SHRIMP WITH PLUM AND "HABANERO" MOLE (5.29oz)
Butter "tamal", filled mussel and pickled vegetables.
MARINATED BROILED OCTOPUS (6.34oz)
Grilled polenta and smoked organic beets, pea mousseline, crunchy garlic, beet vinaigrette, red wine sauce
CATCH OF THE DAY (6.34oz)
Fresh ingredients from the local market, chef's special recipe.
ROASTED TOTOABA WITH GINGER AND CAPERS MEUNIÈRE (6.34oz)
Chiribiya and truffle Mousseline, fennel, confit potato.
FRESH TUNA CRUSTED WITH PEANUTS (5oz)
Organic vegetables, avocado cream, fennel-jalapeño siphon, lemon confit.
SHORT RIB AND GRILLED BEEF FILLET (5oz)
Short rib slow cooked for 8 hours, grilled fillet, beef jerky, creamy chipotle chili sauce, shallot confit, potato terrine.
CHARCOAL GRILLED "PRIME" BEEF FILET (7oz)
Pepper-pasilla chili sauce, grilled onion, potato siphon, French green beans.
ROASTED ROCK CORNISH WITH GARLIC AND MUSHROOMS (6.34oz)
Fresh herbs sauce, roasted eggplant au miso with spices
SUCKLING LAMB (5.6oz)
Crunchy ossobuco, chop crusted with pistachios, eggplant cloud, braised carrot, crunchy garlic
ROASTED POLENTA AND SMOKED ORGANIC BEETS (4.93oz)
Pea mousseline, crispy garlic, beet vinaigrette